The Living Landscape: Designing for Beauty and Biodiversity in the Home Garden
Saturday, June 7, 2014 1:00 pm - 4:00 pm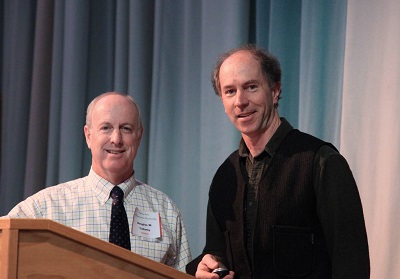 Description:
**This program will take place at the Academy Art Museum, Easton**

This three-part presentation by Rick Darke and Doug Tallamy will explore in depth the topic of their new book of the same title, and will provide inspiration and practical advice for anyone interested in enriching the living layers in their own home habitat.

Looking at the Layered Landscape
The richness of life in any landscape is linked to the richness of its layers, and this is true for both people and wildlife. Rick Darke will open the program with an illustrated discussion of the living layers in local and regional landscapes, both as they occur naturally and as they are often modified by human culture. This exploration will provide a basis for understanding the essential characteristics of healthy layers and how they can be conserved and enhanced in home gardens and shared landscapes.

Rebuilding Nature's Relationships
Specialized relationships between animals and plants are the norm in nature rather than the exception. Plants that evolved in concert with local animals provide for their needs better than plants that evolved elsewhere because introduced plants have not had time to develop the specialized relationships that sustain local species. Doug Tallamy will explain why this is so, why specialized food relationships determine the stability and complexity of the local food webs that support animal diversity, why it is important to restore biodiversity to our residential properties, and what we need to do to make our landscapes functioning ecosystems once again.

Designing and Maintaining the Living Landscape
Rick Darke will illustrate and discuss how an understanding of living layers and relational biodiversity can be put to practical use in the making and maintenance of residential gardens and community landscapes. Strategies for employing "organic architecture" in creating beautiful, conserving, highly functional layers will be presented in detail.

Rick's work is grounded in an observational ethic that blends art, ecology, and cultural geography in the design and stewardship of living landscapes. His work has been feature in the New York Times, Wall Street Journal, Huffington Post, and elsewhere. His books include The American Woodland Garden: Capturing the Spirit of the Deciduous Forest and The Wild Garden: Expanded Edition. For more information, visit rickdarke.com.

Doug is a professor in the Department of Entomology and Wildlife Ecology at the University of Delaware, where he has authored 80 research articles and has taught Insect Taxonomy, Behavioral Ecology, Humans and Nature, Insect Ecology, and other courses for 32 years. Chief among his research goals is to better understand the many ways insects interact with plants and how such interactions determine the diversity of animal communities. His book Bringing Nature Home: How Native Plants Sustain Wildlife in Our Gardens was published by Timber Press in 2007 and was awarded the 2008 silver medal by the Garden Writers Association. He was awarded the Garden Club of America Margaret Douglas Medal for Conservation and the Tom Dodd Jr. Award of Excellence in 2013.

Fee: $30 members, $35 non-members

Click here to register for The Living Landscape.