The Third Annual Tent Symposium: "The Forest Unseen"
Sunday, September 29, 2013 12:00 pm - 3:00 pm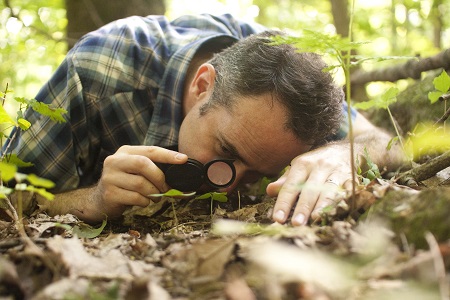 Description:
Immerse yourself in a full day at Adkins Arboretum for the third annual fall symposium. Stroll along the paths that bisect the Arboretum's rich and unique native plant habitat—mature and young native forests, meadows, wetland, and native gardens. Visit the Native Plant Nursery, plant sale, and forest watch and journaling exhibits, then enjoy lunch followed by an insightful presentation by scientist, author, poet, professor, and micro-farmer David Haskell about his year's watch of one square meter of forest. He will share both scientific and personal insights from the project and give short readings from his book The Forest Unseen: A Year's Watch in Nature.

Haskell's work integrates scientific and contemplative studies of the natural world. His research and teaching examine the evolution and conservation of animals, especially forest-dwelling birds and invertebrates. The Forest Unseen was a finalist for the 2013 Pulitzer Prize in nonfiction and received the 2013 Reed Environmental Writing Award and the 2012 National Outdoor Book Award for Natural History Literature. The book also was short-listed for the PEN/E O Wilson Literary Science Writing Award for 2013. A profile in The New York Times says of Haskell, "[he] thinks like a biologist, writes like a poet, and gives the natural world the kind of open-minded attention one expects from a Zen monk rather than a hypothesis-driven scientist."

His classes have received national attention for the innovative ways in which they combine scientific exploration, contemplative practice, and action in the community. In 2009, the Carnegie and CASE Foundations named him Professor of the Year for Tennessee, an award given to college professors who have achieved national distinction and whose work shows "extraordinary dedication to undergraduate teaching." The Oxford American featured him in 2011 as one of the American South's most creative teachers, and his teaching has been profiled in USA Today, The Tennesseean, and other newspapers.

Haskell holds a bachelor's degree in zoology from the University of Oxford and a Ph.D. in ecology and evolutionary biology from Cornell University. He is Professor of Biology at the University of the South, where he has served both as Chair of Biology and as an Environmental Fellow with the Associated Colleges of the South. He is a Fellow of the American Council of Learned Societies and was granted elective membership in the American Ornithologists' Union in recognition of "significant contributions to ornithology." He served on the board of the South Cumberland Regional Land Trust, where he initiated and led the campaign to purchase and protect a portion of Shakerag Hollow, where the book is set, a forest that E. O. Wilson has called a "cathedral of nature."

He lives in Sewanee, Tennessee, where he and his wife, Sarah Vance, run a micro-farm (with goat milk soaps available for purchase at cudzoofarm.com). David blogs at Ramble, where you can read his latest explorations in natural history, science, and literature.



PROGRAM SCHEDULE

10 a.m.–noon Native Plant Sale (with experts on hand for advice)
Gift Shop open

Exhibits
Experiencing Adkins in Silence
Nature as Muse
iNaturalist


10:30–11:30 a.m. Guided walks by Arboretum docents (registration requested)

Noon–12:30 p.m. Lunch

12:30–2 p.m. David George Haskell—The Forest Unseen

2–2:30 p.m. Thanks and gift raffle

2:30–3 p.m. Book signing

*The native plant sale, gift shop, and exhibits are open until 4 p.m.


Buffet Menu
by Magnolia Caterers

Iced Tea and Lemonade
Turkey Boursin Focaccia
Curried Chicken Salad Croissants
Grilled Vegetable Wrap
Cherry Tomato and Garbanzo Salad
Minty Melon Salad
Cookie Basket

Fee: $35 members, $45 non-members. Non-members who join when purchasing their ticket will receive a $10 discount on membership by entering TENT in the discount code box at checkout!


Click here to register for the third annual Tent Symposium.